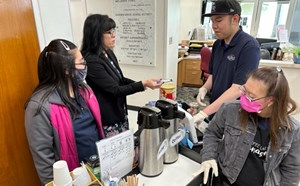 Sharkbucks at Adult Transition Program - Jordan - Students practice vocational skills, communication skills, social skills, and more as they prepare different types of coffee, teas for customers. Today they served our Superintendent Dr. Mafi her morning drink.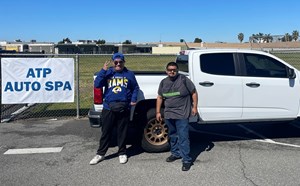 ATP Auto Spa  Jordan Adult Transition students are getting valuable job skills at the school's new Auto Spa, providing car washing and waxing services. They have already received excellent reviews from their customers including Assistant Superintende…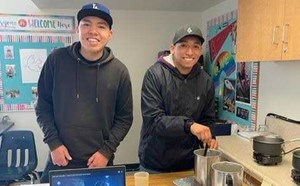 Jordan ATP Candle makers  Jordan students make candles to practice vocational skills, communication skills, Social skills. The motto is : Your donation ignites the transitional experiences of young adults with disabilities.
Principal's Message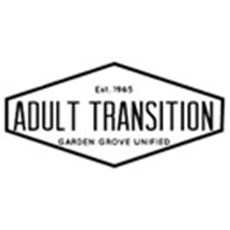 Hello Students and Families,
Welcome to ATP!!!
GGUSD'S Adult Transition Program is a community-based program designed for individuals ages 18-22 with intellectual and developmental disabilities. Our school and staff provide students with work/community-based instruction that include proper work attire, social and personal behaviors required for employment, and overall independence to succeed in life. Through this curriculum, students gain confidence, make their own decisions, take the initiative, and obtain knowledge of their rights as individuals
ATP opportunities focus on the following LEARNING DOMAINS:
Social Skills
Communication Skills
Functional Academics
Vocational Skills
Daily Living Skills
Recreation/Leisure activities
Examples of DAILY learning opportunities that support our 6 LEARNING DOMAINS:
Volunteer Work and/or Job Placement
Accessing the local community (shopping, banking, library, etc.)
Household skills to encourage independent living
Getting around on public transit
Connections to community agencies that can help our students
Our ATP program encourages students to be as independent as possible in the community. The level of support each student receives is based on individual needs. Following the special education protocol, each student receives an Individualized Education Plan (IEP) and a transition plan (TP) that provides step-by-step procedures to become as independent as possible.
ATP students are legally adults but we encourage parent involvement in helping them complete their education. Collaboration as a team is important and appreciated for our students' SUCCESS!
To an AMAZING year!
Principal,
Tricia Chinn
Our School
Jordan ATP provides specialized academic instruction for adult students working to build individual independence in the following areas:
Academics
Communication,
Social skills
Daily living skills
Vocational skills
Recreation and leisure
Our instructional program works to build the functional skills of our students with the goal of building levels of student independence that will allow them to be contributing members of their community.  Through a combination of on-site and community-based instruction, Jordan ATP students strive for success as they transition into adult living.